"Painting Your San Antonio Home's Exterior Accents"
Do you want to give your home's exterior a new look, but it is not time for a complete exterior paint job?
If your siding is in good condition but you want to update your san antonio homes exterior style, consider changing the colors of your home's exterior accents. Doors, trim and shutters painted different colors can create a completely different look for your home without changing the main color of your siding.
When it comes to accents, you have many more choices to make than just one color for all. While some homes have trim, shutters and a front door that is all the same color, it is trendy to use different options on the color wheel to accessorize your home's exterior. Painting accents is less expensive and time-consuming than complete exterior painting, which gives you an opportunity to use bolder choices for a new look that you can change a year or two down the road if you desire.
Start With Your Front Door
You probably have noticed that front doors are no longer just wood or white.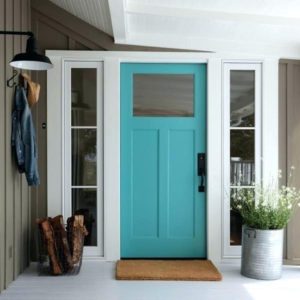 Drive through a few trendy neighborhoods and you will see bold red, blue, green and yellow doors that create a striking entrance on homes. The front door is a smaller space and a focal point of the home, making it an excellent place to add charisma.
Front doors can be almost any color and do not need to match the rest of the home. However, the color should not clash. It is fine to have a blue home with a red door or yellow trim with a blue door. Neutral-colored homes can pick and choose from the color wheel to find a striking door. Just avoid a color that clashes with trim, shutters or siding, red shutters with a purple door is taking contrast too far and hard on the eyes.
Brightening Your Trim
Trim accentuates the borders of your home's exterior and can create an interesting look when used correctly.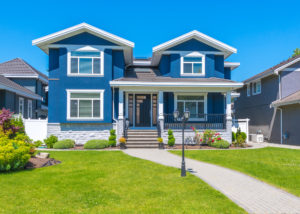 While some homes have trim that matches the siding, these homes usually use shutters and the front door to create some contrast. Trim can be lighter or darker than the siding, depending on the look you want to achieve.
Black and white are both very popular for trim. They can be used with almost any siding, shutter or front door color without causing a clash. You will often see both white and black used together in the same scheme, such as white trim with black shutters. However, you can choose to be more adventurous with your trim and find colors that are more intriguing than classic black or white.
Shades of brown are popular for trim, especially for neutral siding. But, do not be afraid to go bolder. A taupe or tan home with maroon trim can be striking. Brick homes look elegant with white trim but can be enhanced with a deep green. Trim that contrasts without clashing is a look that can brighten your home and create a new style without a huge time or cost investment.
Stylish Shutters
If you have shutters on your windows, you have one more accent to add to your color options.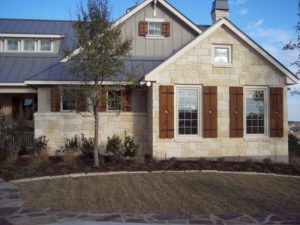 Once again, white and black are the most popular options for a classic look, but there are many other choices that can create a unique and stunning style. Shutter colors do not need to match your front door or trim and can be a brighter option than trim, but still should not clash with other accents.
Shutters can be lighter or darker than the siding – there is not a set rule. You can use a different shade of the same color or a complementary color. Blue shutters with a bright yellow front door or green shutters with a red door pair nicely. With neutral siding and trim, you have many options. While a striking color works well, avoid going too bright. Candy apple red may be too bright, but a deep maroon can offer a bold look without looking out of place.
Professional Color Guidance
If you have a hard time visualizing colors and how they will blend together, consider a professional color consultation. Not everyone has a talent for choosing color combinations that will create a cohesive style. Our pros at Painters In San Antonio can help you choose colors for your home's exterior accents that will blend in harmony and create a new look for your home.
Painting your san antonio home's exterior accents is an excellent way to make over your home without changing the siding color. Contact Painters In San Antonio to get a quote on your painting project. Our crews receive meticulous training and background checks, and we guarantee your satisfaction on the quality of our work. Call today to get started on a new look for your home's exterior.