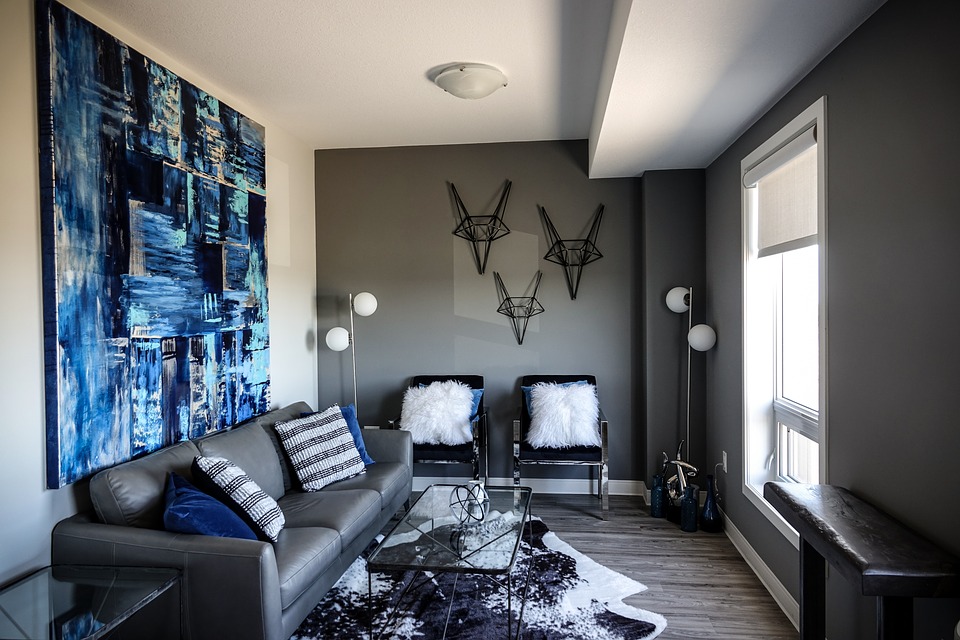 Are you looking for ways to dress up the interior of your home but, don't have a huge amount of time and money to spare?
Would you believe us when we say a can or two of paint is all you need. Well, aside from the obvious brushes and basic accessories.
Around the entire home, there are literally thousands of ways you can put paint to use to make an incredible difference in no time at all. And in most instances, boldness and creativity reap the biggest rewards!
So if looking for an easy, affordable and enjoyable project to try out this weekend, we'd strongly advise giving thought to one or more of the following:
1. Paint the Ceiling
First, don't forget that it isn't set in stone that your ceilings have to be the same color as your walls. In fact, you may find painting the ceiling a completely different color completely transforms the aesthetic of the entire room. If really looking to go to town, why not grab yourself some stencils and bring your ceiling to life with a creative pattern?
2. Striped Walls
Take it from us when we say stripes never go out of style. Never have and never will. One great way of enhancing your interiors with a timeless technique is to add stripes to your walls. Use some high-quality painters tape to mark exactly where the stripes should be, before reaching for a can of contrasting paint and getting busy. Don't forget that if you don't like the result, you can always paint over it.
3. Patterns and Stencils
As mentioned in the first entry to the list, patterns and stencils can be great for enhancing interiors. With absolutely no skill or creativity required, you could soon be looking at the most gorgeous designs imaginable. Think about the kinds of shapes and patterns that would complement your interiors, reach for a quality can of paint and the rest takes care of itself!
4. Paint Your Ceiling Fan
Why not? Just as long as you use quality paint with primer that's compatible with the material, your ceiling fan is fair-game. Give it a bold burst of color, paint all the creative patterns on it you can think of, or simply alter its existing color for a modest change of scenery. In all cases, you may be surprised how big of a difference it will make.
5. Furniture and Fixtures
The same also applies to pretty much everything else around the room that's become dull and uninspiring. A chest of drawers, a plant stand, maybe even a complete dining set – all the kinds of things that can be spruced up easily with a new coat of paint. In most cases, it's simply a case of sanding away at the existing coating to create a rough surface, before applying a layer of primer and finishing with the paint of your choosing. Needless to say, this is a great project to get the kids involved in.
6. Chalkboard Paint
Speaking of which, chalkboard paint achieves two important things in one fell swoop. Along with encouraging your kids to be as creative and expressive as they can be, it also solves the problem of your kids drawing on your walls. The reason being that with chalkboard paint, that's exactly what they're supposed to do! In bedrooms, kitchens and play areas, chalkboard paint can be transformative on another level.
7. Touch Up Your Trim
Doorways, window frames, windowsills, skirting boards, all the kinds of features you can and perhaps should touch up with a fresh coat of paint. Always remember that sprucing up your interiors doesn't have to mean going nuclear. Instead, it could simply mean tending to a few minor alterations here and there, which perfectly complement the rest of your color scheme and décor.
8. Paint the Floor
Last but not least, painting an existing hard floor can bring about the most remarkable transformation to the entire space. Admittedly, it's a little more time-consuming and challenging than simply throwing a few stencils around the place. Nevertheless, get it right with a freshly painted floor and the results could be no less than mind-blowing.
For more information on any aspect of indoor or outdoor painting, contact a member of the team today.