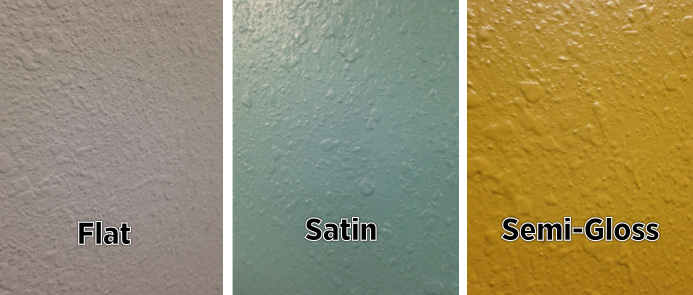 When it comes to painting the interior of your home in san antonio, or anywhere to be honest, it can be quite difficult to choose between what color to use. Not only that but, there is also what sheen should you use. Shine or No Shine This can be confusing and is something that should always be discussed with customers before we choose final paints.
The important thing to think about is do you, your spouse or family like a shine or no shine on the walls? Some people like a shine and some people don't. Personal preference will have a lot to do with your ultimate choice in paint.
The Second thing to think about is the wall or ceiling construction. If there are flaws, waves in the walls and ceilings or lots of patched areas or areas that have peeled and will show through the paint, you should consider flat paint (no shine). A flat paint will help hide the imperfections in the walls or ceilings where a shiny paint will accent these imperfections.
A Third thing to think about is the washability factor. Do you have young children that like to play outside and bring in dirty hands to put hand prints all over your walls? Although a quality Flat paint is lightly washable, a better choice might be the Eggshell.
Flat paints will hide construction imperfections beautifully, but they are not as good with finger prints. They are not as washable, but they are easy to touch up and the touch ups blend fairly well. Semi-gloss paints are more difficult to touch up and normally show a brush stroke within the touch up.
There is a lot to think about, Right? We always give customers enough information to consider when it comes down to selecting shine or no shine.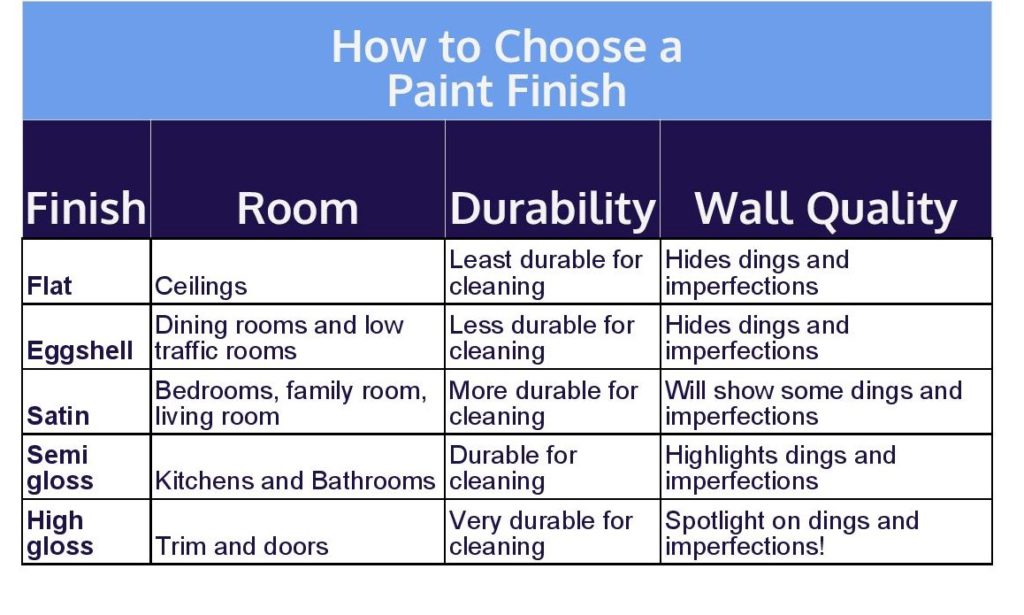 A Quick List of Options:
Flat paint – It has no shine or very minimal shine. Some hi-quality flats have a slight shine, although I wish they didn't.
Eggshell or Satin paint – These both are generally a Lo-Shine paint, depending on what brand of paints you choose. Paints may vary in the amount of shine from brand to brand.
Semi-gloss paint – This type of paint has more of a shine then the eggshell or satin.
Gloss paint – This type of paint has the most shine.
Decisions, decisions, right. Here is where Painters In San Antonio will step in and give our our my recommendations.
Follow These Recommendations From Us:
Social Areas – I recommend for social area walls, such as living room, dining room, family room and hallways to go flat. Flat paint has more of a formal look and as I mentioned it is easier to touch up. I also prefer a flat paint on bedroom walls.
Bathrooms – For the bath I like an eggshell, Semi-gloss or gloss. I believe the shiny paints for bathrooms are a better choice because of the steam generated by showers. Overall shiny paints look great in bathrooms for both walls and ceilings.
Trim – For the doors, door frames, baseboards and moldings I like a Semi-gloss. These areas (especially the doors), normally require more washing then other areas. They are being handled more often and the Semi-gloss paint is very washable. Some people prefer a higher shine and this is no problem for painters to go with a gloss or even a satin if you like a lower shine on trim around the home. However, keep in mind, I've seen some of the satin trim paints that have a very low shine and they are not as washable as the Semi-gloss.
Ceilings – A not to be forgotten area of the home. There are all sorts of textures for the ceilings from a smooth, to knock down textures and then there is the popcorn texture. I say for the popcorn texture you ALWAYS want to go with a flat paint. Smooth ceilings or Knock down textured ceilings it is normally best to go with a flat, but who's to say what is right? Go with your favorite-flat or eggshell. Rarely do customers want a Semi-gloss or gloss on the ceilings but if that's what the customer wants, that's what they get. It's your home, your style and we want you to be happy with the paint job, the choice of paint and of course the shine.
Short and Simple – I'd say the majority of customers go with a flat paint on the social area walls, A Semi-gloss paint on the trim and eggshell for the bathrooms.
Hopefully you are not confused and you are ready to start painting. Contact Painters In San Antonio Today and we will help guide you through your home to make all the right decisions for your paint job. But, if you still have questions, contact us and we will get you the answers.